Note: for a full collection of photos and slide show, click here
This expedition originated in early March with Bear and Lion (aka Peter Behr and Lionel Webb) tossing around the idea of west coast kayaking. It came into focus in April with the selection of Nuchatlitz location and gradual winnowing of participants to them, Bob Dice, Rick Backman, Andy Greenshaw and Steven Marx and their sons, Eman and Joe. Most are adventure travel companions for thirty years and we span the decades of age: twenties, forties, fifties, sixties and seventies. Bob took on the task of organizing kayak rentals and transport, regaled us with 50 pages of information about the area culled from a book by Heather Harbord, Sea Kayak Nootka and Kyuquot Sounds, along with extensive notes and Google Earth maps assembled by Paul Clements. They helped with preparation and enlivened fantasies for the next couple of months.
I meet Joe in the South Terminal on the Summer Solstice after flight and immigration delays that required rescheduling the trip to Campbell River, where we're picked up by Bob, taken to Walmart for last minute food purchases and to his house for rendezvous with Peter and a comfortable sleepover before early morning departure. The three hour drive to Zeballos is enriched with Bob's recollection of places and incidents along the gravel road he managed maintenance and construction for during a fifteen year career there with the BC Forest Service. At the tiny town at the end of the road and the head of Esperanza inlet we buy a case of cold beer and load our gear and two kayaks on the charter boat that takes us to our meeting point on Rosa Island with our four companions who arrived there the day before, travelling from Gold River on the MV UChuck.
Despite our concern about West Coast weather this time of year, we're welcomed to a luminous white sand beach in a placid cove.
Joe and I set up our tent in a hidden alcove and he sets off to fish while I wander wonderstruck through an ancient forest to the ocean side of the island. The turbulence of the water, the jagged basalt rocks, and the windswept vegetation make for an opposite atmosphere from the campsite's.
Upon our return at happy hour we celebrate our group's reunion with beer and Andy's bottle of Glenfiddich Scotch. The senior members of the group avidly exchange information about ailments and medications. In response to my longtime puzzlement regarding the interplay of conscious and unconscious control of defecation, Andy the neuroscientist explains that it begins with unconscious reflex, but is restrained by the cultural influences that require selection of appropriate time and place controlled by the will.
Next morning we get up early and depart for Nuchatlitz Inlet, which opens to the east and harbors two promising campsites along its otherwise rocky shores. We are guided by Bob, our elected leader for the day. Both sea and sky look unpredictably unstable.
Though the guidebook recommends avoiding stretches of water open to the ocean, low tide makes the inside channels impassable. After group deliberation we chance it on the outside of Ensenada Island, which, as we approach, appears to be surrounded by breaking surf and grows to a dark overweening presence. I rename it Roughneck Rock.
Steering us around the point through white-capped swells that either hide the other kayaks or leave us looking down at them, Joe assures me that it's ok to stop paddling and take pictures during these uncertain moments.
Once the wind and waves come from behind we're out of the woods and are greeted by one of the cuddly sea otters that cavort here in numbers after having been wiped out by the fur trade in the nineteenth century.
We stop for lunch on an island in the lee of Roughneck Rock, its shape now less threatening but still memorable.
Emboldened by this test, we make a long crossing and head directly up the inlet to Benson Point, the most distant campsite destination on our chart.  Rising and falling in the open water propelled by a tailwind spawns a fantasy of riding this ocean like one of its early native denizens.  An hour of thrilling paddle takes us behind a rocky peninsula to a gracefully curved beach that makes for easy landing.
Above the beach on a sandy plateau in front of the thick forest we discover a makeshift windbreak, kitchen and sitting area stocked with firewood.
In minutes we're warmed up and clothes are drying.
It takes a while to absorb the scale and beauty of this place.  Instead of one, here are three distinct beaches facing in three cardinal directions that merge into one during high tide.
Standing at the place where those beaches overlap and turning to face the mountain that towers in the fourth direction feels like being at the center of a force field. I want to change its name to Point Convergence.  Andy says this must have been a tribal meeting place.
Joe goes off to fish and I pitch our tent and take a nap. Happy hour afterwards includes cannabis and  tequila and lime. Our Annie's mac and cheese is complemented by tuna and tabasco and mussels pulled from the island's rock.
Fireside chat ranges from dirty jokes to serious reflection. Bob mentions how being in places like this can quiet the patter usually flowing through his mind.  Andy asks everyone to state the most important thing they learned from their experience.
Next day we decide to stay out of the boats and explore this remarkable spot.
I go to the top of a rock that divides the west-facing beach in two and look down at the intersecting fan-shaped patterns of black and white striped sand.
Bob leads me to the caves at the end of the beach. The first one goes back 100 feet. The second is stuffed with a large tree rammed into it by storms.
Beyond the branches we see light and come upon a junction with another cave whose mouth opens further along the cliffs.
At the junction is a cache of deer bones and a formation that looks like a barn owl's face produced by drips from the ceiling.
Beyond the junction we find stalagtites and stalagmites.
After lunch and a nap, I return to the caves with Joe, Lionel and Rick. Joe climbs the cliff at the third cave's entrance and disappears over the edge inaccessible to the rest of us.
We wait ten minutes, then start yelling for him.  After another ten minutes we head back toward camp worried that something might have happened.  Andy agrees to take out a kayak with me to go looking, but then we hear the others shouting that he's returned.  He brings with him stories of beautiful little beaches and footprints of cougars and bears.
Andy and I swim at different beaches in the late afternoon light. The water is moderately cold.
In the morning we depart for a day trip up the inlet.  Joe tells me to paddle stern which I enjoy more than paddling bow.  We talk about his thriving business and family.  Lunch is a brief stop at the end of the inlet followed by a paddle back on the other side winding through a narrow passage that opens to the wider expanse of water where a predictable headwind has come up.  The hour-long crossing back to camp is arduous but my arthritic shoulders and hands have stopped hurting.
At the start of happy hour Andy approaches the kitchen and calls for all men on deck.  He has seen a grizzly-sized black bear crossing the west beach and has pictures on his phone to prove it.  Joe goes out and measures the paw prints with his feet.
We move our tent from the shelter of a secluded windbreak to the edge of the beach near the kitchen. After dinner we gather all the food in dry bags and march with rope back to the dense woods.  A trail leads to a small cleared space where a cedar with branches 30 feet up provides a place to hang them out of the bear's reach.  After several tries by others, Rick smoothly lobs a chunk of wood with rope attached over the branch, and the numerous bags are pulled up and secured.
Coming out of the bush we're greeted by a golden sunset
which prompts a discussion of a kayaking trip to the Galapagos next year. Andy will do the research.
Next morning we launch reluctantly from this amazing spot and head back down Nuchatlitz Inlet through calm waters, the high tide allowing us a sheltered inland passage past Roughneck Rock and access to "Grassy Knoll," a flower-covered hill offering long-distance views of the archipelago.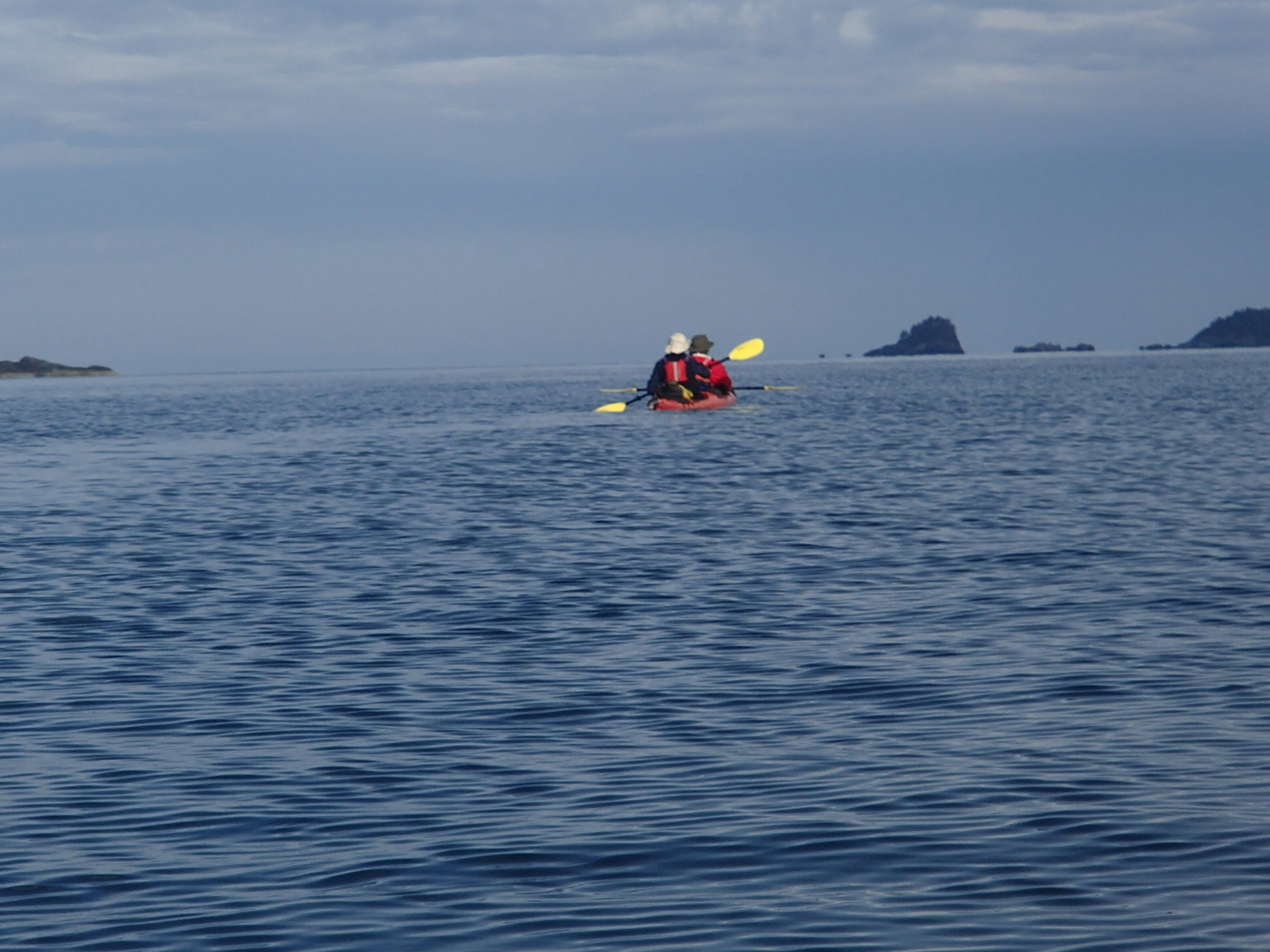 Another hour's paddle takes us back to our first campsite at Rosa Island which still remains unoccupied except for a nervy little marten that scampers back and forth across beach and rocks.
Rain looks imminent, so Joe, Eman, and I locate a frame for a tarp shelter in the form of a gracefully curved cedar tree washed ashore and partially buried in the sand. Joe designs a kitchen counter out of a wide driftwood plank with a v-shaped notch at one end and a flotsam plastic barrel at the other. The rest of us gather logs for benches and make a fire, just as it starts to pour.
Conversation this evening centers on recollections of earlier trips and tributes to the three former participants no longer with us, Steve Ervington, Robert Crowe, and Murray Kennedy, whose neurological condition now prevents him from taking part.
Next morning, the fog slowly lifts after last night's rain. Much of the day is consumed by drinking coffee and talk.  I get to know more about Bob and his wife of 30 years, Katharine, a first nations woman whom he met in Powell River while she was taking courses in Women in Trades offered by Malaspina College shortly after our family left for the States.
Though we've never met in person he and I (and Joe) feel like family. He grew up a few houses down Michigan Ave from where we lived in during 1978-9, our last year in Canada. We exchange lively memories of Michigan Market, the long gone candy store in the middle of the block.
The sun comes out and Joe takes off in a kayak to fish while Andy and Eman go looking for oysters. I walk a little around the island, read The Genius of Birds, and enjoy two lengthy naps. Joe returns without a bite, but Andy and Eman show up with several bags of big oysters which the men consume with relish, while I have to be content with a can of tuna and leftover couscous due to my shellfish allergy.
Happy hour on this last night is lightly fueled by the half case of beer I hid back in the woods and made others find using treasure-hunt clues.
On the morning of the last day we prepare for an early pickup by Peter the boatman from Zeballos and afternoon arrival of  the MV Uchuck.  We take farewell photos and agree to leave the tarp and kitchen for later visitors.